Topr wallet
Finally a digital wallet you as entrepeneur can benefit from. For your customer the comfort of paying contactless, for you a limitless enhancement of your CRM.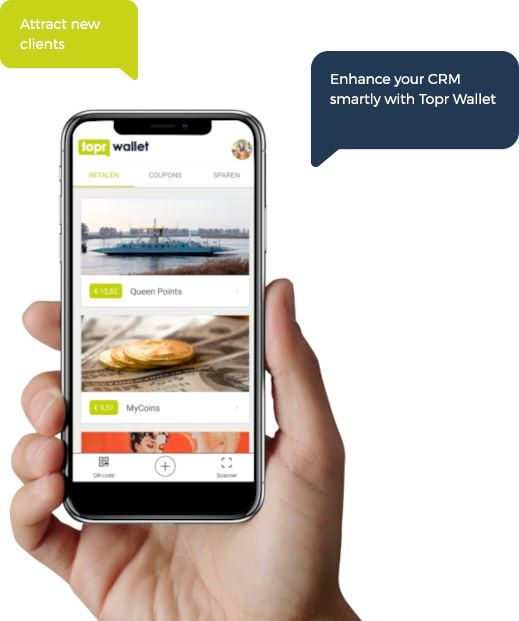 Thé digital wallet with limitless possibilities
Topr Wallet is more than paying contactless alone. Because of a smart design from entrepeneur's perspective your customers and you benefit from the possibilities of Topr Wallet. Your customers benefit, you can increase your revenue due to targetted campaigns.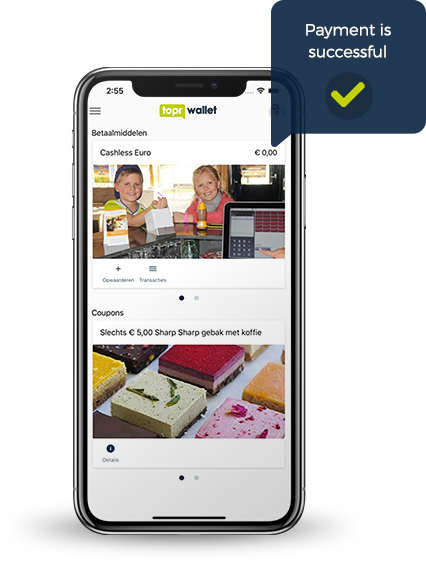 Topr Wallet takes care of your customers
Paying contactless is simple and easy but how do you make sure that your customers remain loyal and only receive the campaigns interesting for them. At Topr Wallet we make sure this all comes together. Not only do we make a debitcard superfluous but we combine this with a smart digital loyaltysystem enriched with relevant input.
Contactless payment
Savings systems
Loyalty system
Access system
Transport system
CRM
Customer Loyalty 2.0
A lot of modern systems have as a startingpoint the unburdening of customers. We go beyond that and make sure your customers are unburned but also more than ever make them feel at home with your company. Because of the individualisation of society, it becomes more important to tie customers to your company. Topr enables you to make that offer that fits your customer.
Topr Wallet, a digital comfort
Savings system
If your customers pay by phone, why wouldn't you also let them save digitally directly through their phone. Not only does that ensure returning customers but it also gives  an increase in your revenue. And you can easily cross sell.
Loyalty system
Nowadays, we are overloaded with information. It becomes increasingly harder to get the fitting product or service to your target audience. While customers take less and less effort to obtain information. We read less and watch video's more. So why would you offer each customer the same if you already know where his or her interests lie. You can realise that with the help of our system.
Access system
We call, navigate, go on the internet and pay with our phones but to open the barrier at the office or the door to the office garden, you need a separate tag or key. Just like for the coffeemachine, the copier, the canteen, the server room, the elevator, the car park,…right. We can integrate all of this for you into our system. This gives an amazing insight in the effectiveness of your office space, holiday park or golf course. The possibilities are enormous.
Transport system
Customized transport, shuttleservices, event transport, numerous applications that cost a lot of time and energy when it comes to paying for it. Whereas the Topr-system is so flexibel that we can guarantee the financial processing without having temporary transporters invest in hardware to handle the payment. The Topr-system is highly versatile and can do more than you can think of.
CRM
The Topr-system is particularly suitable as a tool to fill your CRM and keep it up to date. By linking the systems, you can individually approach each customer automatically with a customised offer without your employees knowing the actual customer. It ensures individualism in these generalising times. That gives you a head start on your competitors because you know exactly what is going on within your target audience and how to respond to it.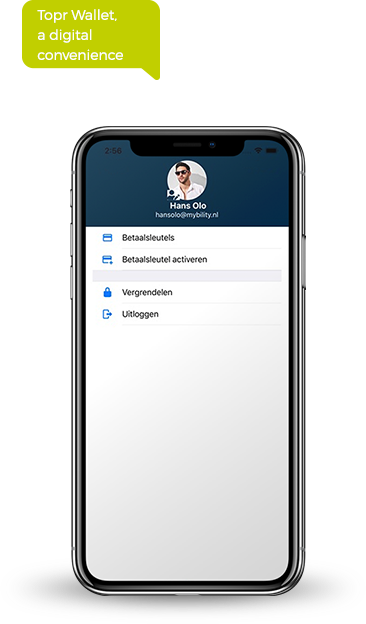 Challenge us!
In practice we see that our system seamlessly fits with the demands of our customer. We often receive requests for new applications. Customers intuitively feel the system and apply it to new situations. For example, this is how the "scratchcardsystem" was created in canteens so that young people don't have to carry cash when they practice sports.
It is a customized information system for consumers in a big department store. It became an accesstag on golf courses, for the members-only car park, it became a ….In short, we accept any challenge. Share your ideas and questions with us.We are convinced we can find a fitting solution within our system.
Multi-purpose
The Topr Wallet is a unique system with a lot more applications than standard payment systems and other wallets. Compare our system to other systems and see for yourself.
| | Topr Wallet | Standard Wallet | Bank card |
| --- | --- | --- | --- |
| Contactless payment | | | |
| Linking debit- and creditcard | | | |
| Savings system | | | |
| Individually approachable | | | |
| Access system | | | |
| Customizable | | | |